My last blog of 2013 pointed out that it was a tough year.  It was.  But it also had some exceptional moments.  These are a few things that made it special:
Every single former student—whether it was a cadet who endured 5 years of my classes or the kid who was just a chorus member in a show I played for at the turn of the century—who reached out to me this year, whether it was for help for the next audition in New York or just to say hello.  My heart jumps every time I see your names on my caller ID or in my inbox.
The K5 student who prayed that all the world would have kitties.
The show that made me the dead mother of 7 brothers.  I still love those boys, their brides, the brides' jilted suitors, and all the townsfolk.
Spending the summer working on a show with an excellent director, assistant director, choreographer, and cast that was fun down to the last minute.   It was the most bittersweet opening of my career–I have never before been sad for rehearsals to end.
The opportunity I had to work with a long-time hero of mine on an amazing show, "She Loves Me," doing 4-handed accompaniment.  Just playing the show was more fun than mortals are usually allowed.
(photo credit:  Dave Simpson Custom Photography.  He's awesome.)
The permanent job that came out of the right person coming to see "She Loves Me."  Serendipitous, indeed!
Playing a concert benefit with Cheryl, Jamie, Robby, and Emily.  I don't think my little house will ever be the same after the night they came to rehearse in it.  What voices!  Listen for yourself!
The darling students I got to meet and work with in "She Loves Me."  I loved getting to work with Ashley again, and loved coaching and getting to know Catie.
Finding out through a "chance" encounter (if you believe in such things) that an evil that was done to me two decades ago had finally been set right.  Who knew that those things happened outside the Hallmark Channel?!
The night when a colleague told me that she read my notes to the cast because she knew I loved them.  It was one of the few times I've felt like I was stopped in my tracks completely.
Catching a home run at the Seattle Mariners game.
(Okay, that didn't really happen, even though a former student sent me a picture of it.)
Seeing my students put two of my favorite stories on stage.
The enthusiasm of my 8th graders in adapting a story I love into a play.
The chance to work again with one of my favorite high school directors on a brutally tough show, and all the great work that his kids put into it once again.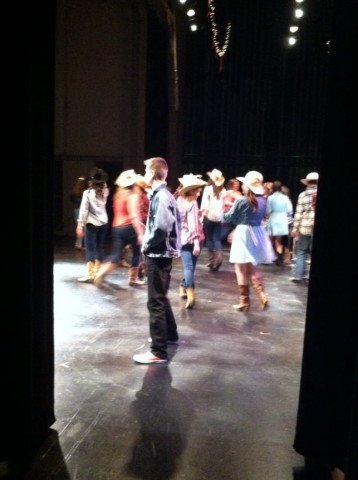 Coaching a student through his first lead role, and on opening night having him ask me to pray for him in the wings.
The colleagues in my life who proved to me that they are more than colleagues—they are good men who believe in doing good work with good hearts, and they are also there to help a sister out when life gets tough.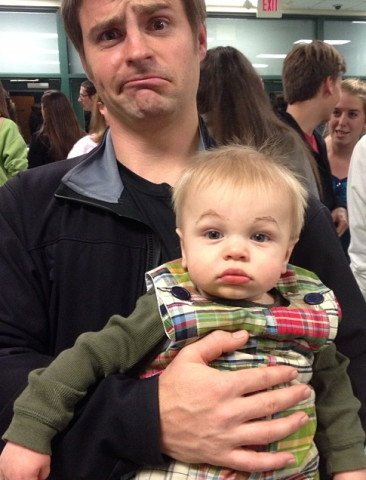 Great new friends who love me just the way I am and who let me draw eyebrows on their babies.
The days when my students prayed for me out loud.  It's one of the most humbling and powerful things I've yet to experience in teaching.
All the new parents in my life who have made it a point to come up to me and say, "I know it's tough being new.  Call if you need me.  I'll back you up."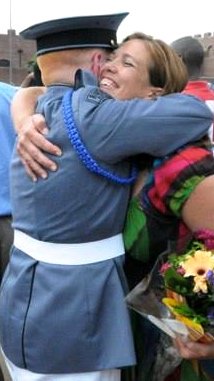 Attending the graduation of a student who fought tooth and nail for his diploma, and watching him tackle college head on and with a smile.
Hearing that my former quartet boys had stuck to their guns and won region.  Success is truly the best revenge.
The unconditional love of my new students–they have thrown themselves into their work, showed up to do extra work, and have gone out of their way to lift me up and encourage me.  Tell me again about entitled teenagers?  These are truly set apart.
The chance to re-visit my mother's home state and see her family—both biological and adoptive.
Having my nephews compete over pushing me through theme parks in a wheelchair.  I wish I could freeze my niece and nephews at this age, but I expect that they might even get to be more fun as they get older.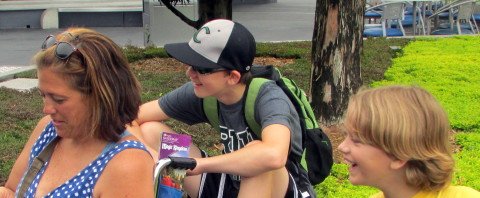 Every day that I get with my next-door neighbors and best friends, who also happen to be my parents.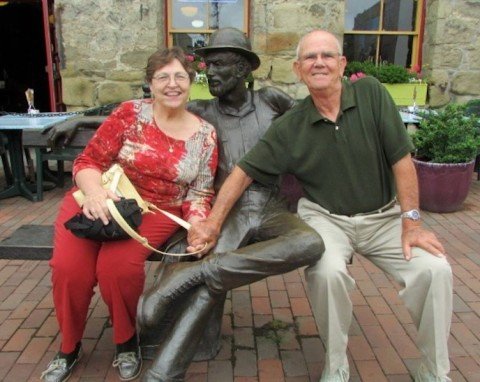 Ring in the valiant man and free,
The larger heart, the kindlier hand;
Ring out the darkness of the land,
Ring in the Christ that is to be.
(Lord Alfred Tennyson)