Last week I read a remarkable story. My friend Valerie posted a picture on Facebook of her left hand. Her engagement ring was in the center of the picture with a gaping hole where the center diamond should be. My heart sank for her. I knew that diamonds are very difficult to locate once they go a-wandering.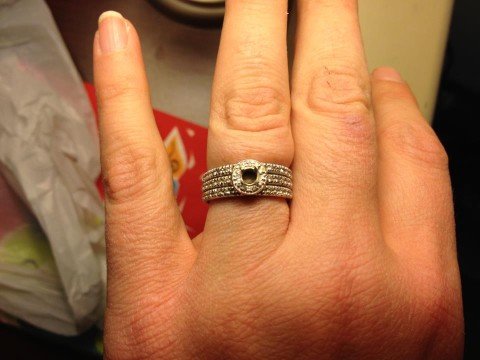 But then I read the caption to the picture:
I've been going through a rough patch here lately, so I wasn't surprised when I looked down and saw that the center diamond in my wedding ring was gone this morning. It's just the kind of thing to fit in with the past couple of months. I had no idea when it was last in my ring. I went to bootcamp this morning–so it could have been in town. I cooked dinner last night, so for all I knew Jamie or I could have digested it. I went to a meeting last night, so it could have been there, my car, my sheets, anywhere! Anyways, all my sweet co-workers were frantically helping me search for it and I just kept saying, "It's no big deal. I will find it." I wasn't upset or worried. I came back to my office and thought, "Hmmm…I ate some pistachios, I wonder if it fell in the trash?" I moved a piece of paper and there it was. Just sitting there. I knew I would find it.
I wasn't all that surprised, honestly. This is textbook Valerie. She's an incredible woman. (One day I'll tell you more of her story.) Where the rest of us panic about lost things, she keeps her wits about her.
What surprised me was when this picture showed up on my news feed again, this time on her Facebook adoption page.
I'm going to use this as a allegory (and a lesson) for what is about to happen with our adoption. We just have to move the right piece of paper (and STAY CALM–ahem–I need to work on that) and BAM! Our diamond will be sitting right there. We will find each other and say, "Oh, there you are! I knew we'd find you!"
I like to think that I'm pretty good at drawing analogies for life, but Valerie left me in her wake on this one.  I don't even need to pontificate in my usual fashion; she said all there is to say about it.
This isn't just about lost objects. Last week Valerie taught me the value of waiting and hoping for the best. Lost jobs, lost recognition, lost relationships—where did we lose them? Maybe we could just go look again.
It's also about the things we haven't found yet. In her case, it's her child. For the rest of us it's something else.
And it's waiting for you. Stay calm. Keep looking. You will find each other and say, "Oh, there you are! I knew I'd find you!"
Valerie and her husband Jamie have an adoption page.  Please check it out at http://www.iheartadoption.org/users/thefambroughs
Now faith is confidence in what we hope for and assurance about what we do not see. (Hebrews 11:1)