I love superheroes. I guess that everyone loves superheroes, but I love them more than most girls I know. Maybe it's because my brother became a comic book aficionado in college, and whatever Jody loves, Jody shares with his baby sister. Maybe it's because "Lois and Clark: The New Adventures of Superman" was the best show EVER. Maybe it goes all the way back to the summer after the 4th grade, when I woke up from a particularly wonderful dream thinking I could fly like the dude in "The Greatest American Hero." Who knows…?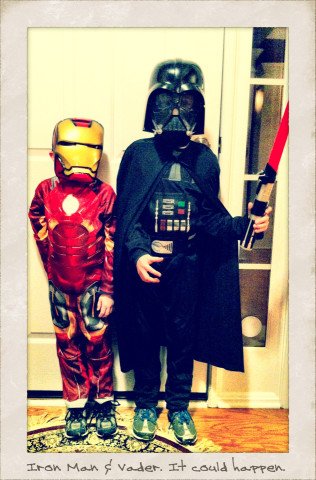 What I know is that superheroes give great food for thought. (And I'm all about a good snack any day of the week.) I love "Batman Returns." I'm sure that has something to do with Christian Bale, but I think I love Batman himself for the same reason that Jack Nicholson's Joker loved him—all his wonderful toys. He's somewhere between McGyver, an Eagle Scout, and 007. He has all the money to buy all the doo-dads that he can use to do anything. Very cool.
But I digress. I remember seeing "Batman Returns" in the theatre and being weirded out by all the darkness and violence, so I missed a great line. Young Bruce is cavorting with scantily-clad European girls when he runs into his childhood friend, Rachel. He stammers and stutters and tries to explain to her that there is more to him inside, that he's not some shallow rich boy. She says, "Deep down you may be that same great kid you used to be. But it's not who you are underneath…it's what you do that defines you."
That hit me funny.  I wasn't sure if I believed it.  I'm all about hating the sin, loving the sinner. I'm about naively loving the person for who he is and turning a blind eye to what he does. I'm a card-carrying Calvinist, for heaven's sake. I fully believe that we can never fall so far that God cannot reach us, and that in the end there is truly nothing we can do to mess up beyond what he gives us the capacity to handle. My soul revolts against "If it's to be it's up to me," because I'm a screw-up and a sinner and a failure when it comes down to it.
It hit me funny because I do judge a person by his actions.  It took a Batman movie to make me admit it.
Once I asked my friend Peppermint (several of friends seem to have cartoon alter-egos!) if it was too late for me to go bad. Of course I was just being stupid, but I have pondered most of the stupid questions I ask more than I care to admit. I think it is too late for me to learn to behave badly. I am so entrenched in behaving as if what I do defines me. I hate to even admit it because it smacks of works-righteousness.  I balk at the thought that I would live in a way that judges a person by his actions rather than by his heart, but that's exactly what I do.
At what point do we realize that the road to hell is paved with good intentions? I talk a lot about faith, about being who God created us to be. At what point can I expect the rubber to meet the road?
At what point does knowing who you are require action?
And what does that look like?
There are heroes everywhere.  I see them in all the facets of my career.
Obviously, there are the heroes who literally fight for us every day in far-off places.  It has been a strange, awful, and inspiring new phase of my life to see young men who once sat in my classroom go overseas and fight.  I am indebted to them.
I see heroes in colleagues who have set aside an easy, financially stable life.  They stand in a classroom all day, often in front of twenty students who have no interest in learning anything.  Those teachers do it for the sake of the one or two students who do care.
I see heroes in ministries, either in a church or overseas, or even the people who are helping out the guys under the bridge.  They take bullets and cheap shots for the sake of their religion or, worse, for the people who misrepresent it but they keep giving and keep serving.
I see heroes who are just trying to do what they do best, whether its singing, dancing, acting, or staying at home with their children.  They fight daily battles with rejection, loneliness, and doubt, encouraged only by the occasional glimpses of the very real good that they are contributing to the world.
And I see the young heroes.  They still haven't been beaten down by life.  They are anxious to create a new and different world.  Some of them are confidently on the front lines, and others are in the shadows just trying to stay alive in a hard world.
Heroes who are parents (single or married.)  Heroes who care for aging parents.  Heroes who find ways to love their neighbors.  Heroes who lay down their lives every day just by giving up their rights to be on top of the heap or even comfortable.
"But it's not who you are underneath…it's what you do that defines you."
It's both.  It's knowing who you are underneath, knowing what you must do, and doing it.
 Not that I have already obtained all this, or have already arrived at my goal, but I press on to take hold of that for which Christ Jesus took hold of me. Brothers and sisters, I do not consider myself yet to have taken hold of it. But one thing I do: Forgetting what is behind and straining toward what is ahead, I press on toward the goal to win the prize for which God has called me heavenward in Christ Jesus. (Philippians 3:12-14)