It's Valentine's Day with your sweetie, and you're posting it all over Facebook and Twitter. Part of me wants to tell you where you can stick your roses and your overpriced dinner, but that would only annoy you and make me look more pathetic.
Let's not be naïve. St. Valentine's day elevates one segment of the population and isolates another. What makes you feel all warm and fuzzy makes me feel like an unloved pile of poo. We need a bit of perspective.
Mercifully, I have a show this year on February 14th.  I will be dressed up to the eyeballs, in a shallow orchestra pit, looking across two pianos at a man I respect and adore, doing what I love while a musical love story plays out right next to my head.
That's the makings of a great night.  I am grateful to be spending the evening with the long-time love of my life, who responds to my touch for better or worse.  We have a black and white relationship, we have wrong notes, but in the words of the great John Arnn, we are never more than a half step away from a resolution at any point.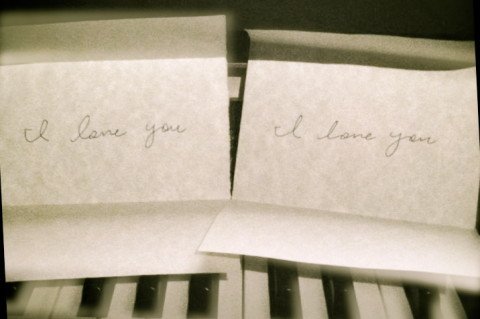 It would be easy for me to wallow in loneliness. I am past 40, and I'm as single as I've ever been. I don't like that any more than I ever have, but I still know that I'm where I'm supposed to be.
Not only am I where I'm supposed to be, but I'm in a wonderful place.  I am more amazed by God's creative love for me with the passing of each year. Those of you who really know me know that the last 12 months have not brought easy lessons in loving well and receiving love. This year has been downright baffling, but it has been the best year of my life in some ways.
I attribute some of the peace I've had to something that happened a couple of years ago. I made THE LIST.  A sweet friend encouraged (dared!) me to physically write out a list of what I'm looking for in the love of my life—20 detailed items. She challenged me to trust that God is not slow in keeping his promises (as some understand slowness to be!) and that he would give me more than I could ask or imagine.
God has done exactly that. Within 6 months, he brought a man into my life that met all 20 of the items The List in ways I had never dreamed possible…and who, it turns out, has one unlisted, deal-breaking exception. Even though he is not the romantic answer to my prayers, he has become a great friend of mine.  I can't look at him and not understand that his appearance in my life is anything but accidental.
As I've wrestled with this issue, God has sent me reinforcements. He has sent people to pray for me and for The One. He even sent someone to pray for the man who isn't The One.  Over that same time period, I've faced new and terrible challenges, and even through that God has supplied friendships I never expected.  As I lost one group of students that I love deeply, I was given new kids in new places, and I have come to love them deeply, too.  I've found new friends in that experience.  Some of those friends are reading this right now—moms, colleagues, friends who've known me for years, and old friends I've only just met. I've had more loving messages in writing from my students in the last year than I could ever have imagined, sent to simply encourage me. (I've kept every one of them, and I'm tempted to take them out and read them for Valentine's Day.)  I've met people on the internet who have become great friends, great sources of encouragement to me.   Maybe Facebook is narcissistic, but it can also be a tool for great, selfless love.
We pine for romantic love, but we have no idea what it means. It's the day-to-day love that merits celebration: sharing Cheerios and the paper with Mom and Dad in the mornings, making a colleague's life easier through some tiny act of service, taking the time to pray for a friend's happiness. These are acts of tremendous love. My friend pushed me to make The List in order to have faith in big love, and now I have no room to doubt God's creative provision.  If he could meet all my requirements with the wrong person, I have no doubt that he can do far better than any list I make, and that he will provide the right person.  I have no doubt that God himself is enough.
Behold what manner of love the Father has given unto us, that we might be called the children of God… Wallow in that, and give thanks whether you are out at dinner with your sweetie or enjoying a night at home with yourself.
Chocolate goes on sale tomorrow.
There is someone that I love even though I don't approve of what he does. There is someone I accept though some of his thoughts and actions revolt me. There is someone I forgive though he hurts the people I love the most.  That person is…me. (C.S. Lewis)
(photo: From the pit at GTA's "She Loves Me."  At one point in the show, these love letters waft down on my keyboard.  Who could ask for anything better to fall into the pit, unless it was chocolate?)