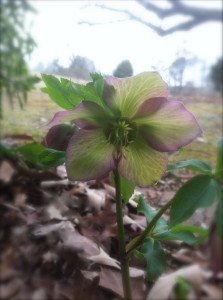 This is a journey. This is a garden. This is a heap of metaphors.
I should probably begin with the title, "Grow where you have room." That came from a throw pillow. It wasn't just any throw pillow; it was a needlepoint throw pillow on my brother's bed, and he made it himself in the fifth grade. Lest he rise up and kill me right now, I should add—quickly—that my brother is not one to make needlepoint pillows. This was some sort of art project of his. The pillow said, "Bloom where you are planted, but grow where you have room."
Over the years, I saw the phrase "Bloom where you are planted" emblazoned on bric-a-brac all over the place, but never more than that. It bothered me. Finally, sometime after I graduated from college, I mentioned to Jody that I never saw the "Grow where you have room" other than on his pillow. He shrugged and said, "That's because I made it up."
He made it up, and now I've stolen it. It has become something of a mantra in my life. It was in the back of my mind when I up and changed schools my senior year of high school. I thought of it when I very abruptly moved to Nashville to go to college. It certainly ran through my mind when, for no apparent reason, I made a career out of landscaping for more than a dozen years, and it wasn't any less present with me when I left landscaping and went back to school so that music could make an honest woman of me.
While I was in landscaping, I first started to realize just how many agricultural references Jesus made. (Think about it for a minute. There are a bunch of them. Maybe I'll elaborate on them one day.) Even though we are not as much an agricultural society, the metaphors still hold. We still understand plants.
We understand roots. We know that we need sun and water, and that even in the harshest environments plants have their seasons. They put off fruit for a season, and they go dormant for others. Flowers bloom and fade.
We are not much different. We need sun and shade, water and drainage, productivity and dormancy. We are predictable in a lot of ways.
We are adaptable, too. When I first started landscaping, I saw a dogwood tree alongside a driveway. One branch was covered in blooms, while the rest of the tree had hardly any blooms. I went closer to look and realized that the blooming branch was almost completely broken off from the trunk. My supervisor explained that the tree knew that it was injured, and that it was trying its best to put off as many blooms as it could before the branch died. It was blooming where it was planted.
But we see even more resilient examples—plants that completely change shape to reach the sun, trees that grow around fences, vines that break down brick and stone, and flowers that bloom in the dead of winter.
This is what I'm writing about. This is not a story about plants, but a story about growing wherever we have room.
(Along those lines, I ask that you bear with me and grow with me as I format this blog.)